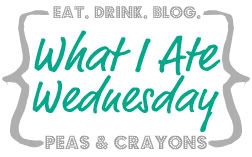 Wednesday already! Only two more WIAW's until my shoot!
Yep, it's about that time again- it's already been over a year since I last shot with James Patrick so I figured I better get that ball rolling. I'll be shooting the day before Easter which is basically around the corner, and to be honest I'm so happy and relieved by how my body is progressing since focusing on leaning out a bit. My calories are still high (about 1600) and my macros are around 30-40-30 which has allowed me to get rid of some of my winter fluff without being hungry all the time, compromising my metabolism or losing my hard earned muscle. Once the shoot is done I'll do a more detailed post about what I've done differently this time around and how and why I'll never go back to my old ways.
I'm less than 3 weeks away from a shoot and my meals don't look all that different than they have in the past, which makes me really happy!
Meal 1- egg whites, sweet potato, turkey sausage, low sugar ketchup. Meal 2 was egg whites and oats thinned with almond milk and then cooked like pancakes. I rolled them up with strawberries inside and on top and also topped with sugar free syrup. Meal 3 was a quick turkey, lettuce, and avocado bowl, Meal 4 was a super yummy combo of greek yogurt, cocoa powder, stevia, cinnamon, and walnuts. I could have eaten 7 of these bowls. Meal 5 was buffalo chicken, asparagus, and avocado with peach green tea from Coffee Bean and Tea Leaf (SO good) and chili with spinach for dinner.