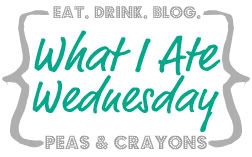 This What I Ate Wednesday looks quite a bit different than
last week
, dontcha think!? Thank goodness! I mentioned a
couple weeks ago
that I realized I was not eating as much as I thought I was, so I've been (a little) more diligent about tracking calories lately. Yesterday's eats turned out to be a little over 1950 calories with 187 of them being from carbohydrates. Hooray!
Breakfast was the new usual- rosemary red potatoes, scrambled eggs, and a piece of Applegate Chicken Sausage.
Post Workout I had a waffle made in my waffle maker that I finally broke out earlier this week. Topped it off with some blueberries and greek yogurt.
For snack I grabbed a Power Crunch bar (If you haven't tried these, you need to!) 1/2 a green apple, and greek yogurt (not pictured)
Lunch was 2 leftover tacos from dinner on Monday night.
Dinner was Southwestern Turkey Meatballs from the December issue of Oxygen Magazine. (Another must try.)
And a tasty little casein pudding with extra stevia before bed.
And before you ask for my waffle recipe…
I'm still working on it ;)