I mentioned
yesterday
that even though I'm prepping for my bachelorette party, I'm increasing my calories and carbs over the next few weeks because I think I've been under eating in an effort to stay lean. The last thing I want to do is F up my metabolism! So, hopefully I'll be able to show you my gradual increase over the next few weeks.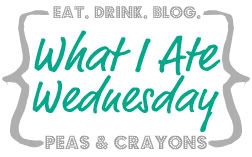 Brought back the good ol' egg whites and oats for breakfast. Deeeelish.
I was crunched for time after my workout so this is what I came up with... a sweet pumpkin wrap? Not really sure, it was good though! I took greek yogurt, 1/2 scoop protein powder, a spoonful of pumpkin, stevia, and cinnamon and mixed it all together and then rolled it up in a brown rice tortilla.
Snack was pretty typical, Lactaid cottage cheese, peanut butter, carob chips, cinnamon, truvia, and 1/2 a Quest bar. (PS Have you entered by giveaway?!)
Stuffed bell pepper for lunch! I stuffed it with
salsa chicken
, lettuce, tomato, and avocado.
I had this huge salad for lunch on Monday from Zoe's Kitchen and only ate about half, so I finished the other half for my afternoon snack. It was lettuce, cucumber, chicken, and grilled onion.
And lastly my favorite meal of the day... breakfast for dinner! I scrambled up some egg whites and taco seasoned turkey and then added avocado and egg whites. Topped it off with Cholula! I've actually been eating this a lot lately for my afternoon snack, I think I've switched from my egg white and yam obsession to this!