I'm such an airhead sometimes. I went to put together my little collage for WIAW and realized I took pictures of everything except my dinner. Boo! So, here's a What I (mostly) Ate Wednesday: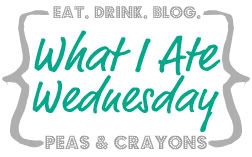 Meal 1- The usual! Egg whites, yams, onion, and bell pepper
Meal 2- Egg whites with
overnight oats
! It's been a while since I had overnight oats and they were deeelish!
Meal 3- Lactaid Cottage Cheese with cinnamon, peanut butter, and 1/2 a Quest bar crumbled up. Pretty much like dessert at 10am and pretty much awesome.
Meal 4- Turkey burger with Almond Cheese, tomato and yam.
Meal 5- Taco turkey meat with avocado over a nice big salad.
Lots of you have noticed that I haven't been eating grains as much, and you are right! I've cut them back and really only eat them on leg day. Overall, my body seems to do okay with grains, but since I've just been maintaining over the summer and (trying) to stay on the leaner side, I've mainly been relying on yams and veggies for my carbs. I am however going to start a little building phase for about 4 weeks once we are back from vacation this weekend, so I am going to add the grains back in because I find that I have better gains that way. Not sure if this will work for everyone, but it's what works for me!
How do you manipulate your diet based on goals?