So, I got a text from one of my best friends yesterday (who will remain nameless, but you know who you are!!) asking me why she felt like she was gaining weight instead of losing. When I asked what she was eating she said, a shake in the morning, maybe some chicken at lunch, and chicken and veggies for dinner before she worked out. I just about lost my sh*t.
I'm going to make this really easy. You have to eat for your body to function. Period. I don't just mean function as in be able to get through the day alive (although that is always a plus) I also mean function the way you want it to, in her case to lose weight. When you feed your body, you feed your muscles. The more muscle mass you have, the greater your metabolic rate, the more calories you burn. When you starve yourself you go in to preservation mode and you will never, ever get anywhere with your weight loss. Ever.
I know oftentimes it's not intentional and many people are misinformed, which is one of the many reasons I write my blog.
Protein, complex carbs, and healthy fats. Eat them all, every day and your body will thank you!
And now, on to the food.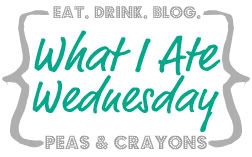 Click
here
for this recipe!
You can check out my
Instagram
to see how I made this!
Do you know someone that is going about losing weight the wrong way?