I think I might have hit my first wedding panic. We are officially less than 6 months away, and I feel like there is so much to do! This week I'm finalizing center pieces, getting bridesmaids dresses ordered, booking our flights for our honeymoon, sending out Save The Dates, scheduling our last tasting, and starting to coordinate our bachelor/ette parties. I've been told in comes in waves, and I definitely think this week is a wave! I usually deal with stress pretty well (I think it has to do with my over planning nature) but getting my workouts in and eating right are essential especially when I'm feeling overwhelmed because I know if I let those go it makes everything worse. With that said, I think I had a pretty successful day of eats yesterday!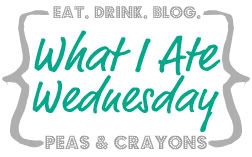 Started the day off with my new go-to: egg whites with onion, mushroom, and jalapeño and sweet potatoes.
Speaking of a new go-to THIS is my fav. Crumbled rice cakes mixed with cinnamon, Kal Stevia, 1 scoop protein powder and almond milk. The ultimate post workout meal. I'm obsessed.
Mid morning I had my veggie
egg white muffins
with one of my coconut muffins. I haven't decided if this recipe is absolutely perfect yet, so I think I'll wait until next week to post it and give it another try this weekend. I think it needs a teeeeny tweak.
I was unusually hungry about an hour before lunch and I had a lunch date planned with B, so I grabbed some almonds and my favorite Vitamin water to hold me over.
Lunch was a chicken protein plate from
Chop Shop-
No rice, no sauce, double veggies. And yes, I killed the whole thing again. Too good to leave any behind!
In the afternoon I had 2
Turkey Muffins
and some green beans. Boring, but it works.
And because I had 9 million things to do after work yesterday, I just made a quick little crepe thingy with a few egg whites and a tablespoon of coconut flour. Topped with peanut butter and greek yogurt. Definitely hit the spot!
Any newlyweds out there want to share how to keep the wedding as stress free as possible? I'm up for suggestions! :)