Before I get to WIAW, HOLY!!!!!!
I came home from work yesterday and B came walking in the door with this! You have no idea how badly I needed a new computer-- I've had my old Mac since I was a Freshman in college, which means it's probably 7 or 8 years old. It wouldn't upgrade to the newest version of iTunes, and honestly only really worked half the time. So of course, I had to use his laptop 90% of the time and it seems as though my photo's were taking up quite a bit of space. Oopsie.
Here's a quick WIAW for you.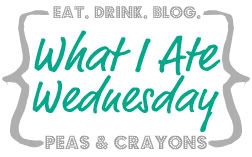 Like I mentioned yesterday, I've dropped my carbs and upped my fats, but yesterday I decided to go with a higher carb day. It's important to keep your body guessing and I don't want to stay low carb for too long. (When I say low carb I'm not talking 20g of carbs a day, I make sure to ALWAYS keep my carbs at 100g or more. I need a functioning brain more than I need abs!)
- Overnight pumpkin oats
- Green pumpkin protein shake
- 2 slices Ezekiel toast with greek yogurt
-Grilled chicken, yams, and roasted broccoli
- Shredded chicken salad
- Peanut coconut ice cream. Yep I said it, and you'll have the recipe tomorrow!!!