Wednesday already! Holy moly. Time really does fly when you're having fun, and when you're busy. Between starting a new job and starting a new workout plan this week has been full of fun new adventures and I'm actually really surprised to say that for once I am loving change! Finally six months later I'm living up to my new years resolution of stepping out of my comfort zone... I should do this more often! ;)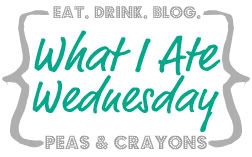 This WIAW is a little different than past posts because I can't really share everything I ate. Out of respect for James and his program, I don't want to divulge all of the "secrets" to his nutrition plan. So, you'll notice I don't have my PWO meal posted because there is a little trick that James has, so you'll have to join me on his plan to find out what that is!
M2- 1/2 cup cottage cheese mixed with 1/2 cup oats, dash of almond milk, cinnamon and Truvia and 1 oz almonds
M3- Zucchini turkey burger with 1/2 a raw zucchini and 2 tbsp hummus
M4- Salsa chicken on a bed of spinach
M5- Clean eating beef and broccoli
I've upped my carbs a bit and I actually need to add carbs into one more meal, but I didn't want to put my body on carb overload too quick, so I'm easing in to it. I've been following more of a 30-40-30 split so most of my carbs have been pre and post workout, so it's a little weird to be eating all these carbs throughout the day.... but a good weird!