So normally for What I Ate Wednesday, I take pictures of my food from Tuesday so that everything is ready to go first thing Wednesday morning. Well, life has been a little lot hectic and stressful lately, and apparently taking pictures of my eats yesterday was not top of mind. Therefore, today's WIAW is actually the food I'm eating today... hence no picture of my future dinner.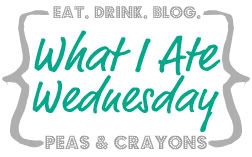 Breakfast was not the norm this morning! Well, kind of. I had my usual egg whites scrambled with spinach, mushroom, and onion topped with low sugar ketchup BUT my toast was
this recipe
from Clean Eating Chelsey. Mine is obviously not as pretty as hers, but it was awesome with a little no sugar syrup on top.
Standard PWO shake: Only Protein, spinach, ice, unsweetened Blue Diamond almond milk, cinnamon and 1/2 a frozen banana.
Mid morning snack that I'm about to devour nowish: Cottage cheese with cinnamon and truvia and 1 oz almonds.
Later today I will enjoy leftover beef and broccoli from last night, and a spinach salad with salsa chicken on top. Dinner will be grilled salmon and asparagus... yum!
Also, I've had a lot of requests since yesterday's post about adding me as a friend on myfitnesspal.com and the reason I don't want to do that is because some days I'll only log half my food, some day's I'll look back and repeat a day, so basically I don't want to confuse anyone and I don't want everyone trying to follow what I eat exactly because my logs can be a little confusing. I am happy to look over what you are eating though if you just want to send me a screenshot via email!
Okay now on to the reason you are reading this post ;)
The kind folks at
Food for Life
have sent me
5
free item coupons to give away to you guys! All you have to do is comment below letting me know your favorite Food For Life product. This giveaway will end Sunday at Midnight!