I was so sad I missed WIAW last week, but don't worry I'm back!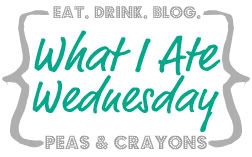 Breakfast was pretty typical- oats with egg whites, cinnamon, truvia, almond milk, and blueberries with a shot of ACV. A few of you have asked recently if I still drink the Apple Cider Vinegar and the answer is yes! I take a medicine cup full and chase it with water first thing in the morning. I find it helps a ton with my digestion all day long.
Green protein smoothie after the gym! PS I feel like a walking ball of lactic acid today. My abs and whole lower body are SO sore!
Cottage cheese and chocolate
peanut butter protein bars
for snack. And yes, I ate the cottage cheese right out of the cottage cheese container. Hey, reduce-recycle-reuse, right?
Steak and asparagus for lunch. It doesn't look like much, but boooy it was tasty. Sometimes you just need a little red meat in your life. (I meant to bring sweet potato to go along with this, but I forgot. That's what rushing will do to you!)
Chili verde salsa chicken with lettuce, avocado, and roasted poblano pepper. I topped it with greek yogurt and Tapatio. Delicious!
The usual casein pudding for before bed snack. I actually made a quick video for those of you that had questions about it!


Happy Wednesday! :)