I'm really hoping the second half of the week goes faster than the first half. That is all I will say about that.
Time for What I Ate Wednesday!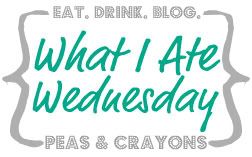 Oatmeal and egg whites (mixed together) with a handful of blueberries, then I headed to the gym for a crazy back day!
Green pumpkin protein shake to recover!


I know, you can say it. TYPICAL! :)
Leftovers from our
easy steak dinner
for lunch. Note to self: cut steak at home next time. Plastic knives and steak do not work well together.
Two
turkey meatloaf muffins
on a bed of romaine lettuce with salsa. I haven't made these muffins in a very long time but they are so easy and good, definitely going to start making these weekly again.
Spicy rubbed cod with broccoli for dinner. I wasn't the biggest fan of this, I think I overdid it a bit on the seasoning. B on the other hand went back for thirds. Go figure.
We wrapped up the night with the most gory movie ever. Drive with Ryan Gosling, sounds innocent enough, right? Not! I do not recommend you eat dinner while watching this. Just saying.
Happy Wednesday!