I'm about to admit something potentially embarrassing, but I'm okay with that. I am absolutely obsessed with the show Pretty Little Liars on abcfamily. Yes, you read that right, it says abcfamily. Like the channel for kids. I don't know what it is about that show but I am HOOKED and the season just started up again this week so you can imagine how excited I am! Not to mention a new season of the Bachelor, The Biggest Loser, and one of my all time favorites Grey's Anatomy! Holy cow that's a whole lot of TV! You would never guess after reading the above, but I'm not that big of a TV person... mostly because I just don't have the time, unfortunately. BUT, the introduction of the crock pot to my kitchen has given me a few extra minutes a day for a little TV watching :) Speaking of crock pot- the winner of the giveaway is Lexie! Please email me (brittany@littlebshealthyhabits.com) to claim your prize!
Now, on to the good stuff, What I ate Wednesday!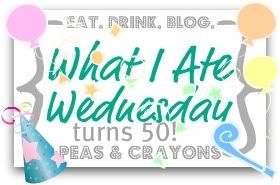 2 pieces of my version of cinnamon toast on Ezekiel bread with a 5 egg white scramble that included onion, jalapeno, and bell pepper. Topped with hot sauce!
Green pumpkin protein shake for post work out. So. good.
Overnight overnight blueberry oats. No, I didn't stutter but I did forget that I made these the other day so they actually sat over two nights. Extra tasty!
Cottage cheese with carrot cake protein bars was eaten for lunch. My eats were kind of a hodgepodge today wouldn't you say?
I used a plain baked chicken breast to make chicken salad. Chop up the chicken and add greek yogurt, mustard, onion, celery, and pepper. Just like my great-grandma used to make it (without the mayo...)!
For dinner I made salsa chicken in the crock and then ate them as lettuce wraps. I topped them with avocado, red onion, and tomato. (Yes, I abbreviated crock pot to just crock. ha!)
What are some of your favorite winter season shows? Am I missing out on anything?