Wow! Can't believe it's been 10 weeks since starting WIAW... Time flies when you're having fun ;)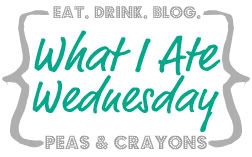 Egg white scramble (4 whites one yolk) with onion, mushroom, and jalapeno and 2 pieces of Ezekiel bread with a little coconut oil, cinnamon, and truvia.
Green protein shake post workout
Cottage cheese with 1 1/2 blackberry protein muffins was eaten while trying really hard not to throw my laptop across my office. We won't go there.
Meatballs and spaghetti squash for lunch. YUMM.
I was having a lazy weekend so I didn't do much food prep other than the protein muffins. This means I didn't have anything prepared for my afternoon snack. Shame on me, I know. So, I packed zucchini and hummus and called down to the deli that's in my building and prefaced my question with "Okay, I have a weird question...." I asked if they could make me hard boiled eggs, and they said yes! Ah, I'm so resourceful. :)
I was SUPER hungry when dinner came, so I loaded up on the veggies. If you're thinking that my Tilapia looks a little undercooked that's because it is. You see, I was busy watching Pretty Little Liars while cooking and forgot to set the timer on my oven. So, when I thought it had been about 20 minutes I pulled out the fish and got my plate ready. Took the picture and took my first bite (all while still glued to the TV of course) before I realized that my Tilapia was clearly still pink. Don't worry, I stuck it back in the oven.
Stop by tomorrow to see how my parents kitchen clean up went!