I will admit, I almost forgot about WIAW this week since I had Monday off of work. I can't believe that it's already Wednesday, but I'll take it!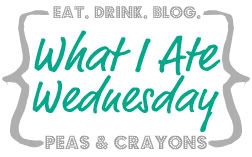 I typically put the carton egg whites in with my oats and a little protein powder, but I decided to switch it up since I am always super hungry after a leg day. Blueberry oats (hot) with egg whites on the side. Very filling!
Cottage cheese and a slice of Cinnamon Swirl Protein bread. Just cant' get enough!
Turkey Chili
on a bed of spinach with avocado. My favorite meal of the day :)
Now, had I remembered it was WIAW, I would have planned a different dinner since I think I ate this exact same thing last week... sorry! I promise promise promise to have more variety next week.
I ate my chocolate peanut butter casein pudding while fittingly watching Willy Wonka and the Chocolate Factory- I had forgotten how much I love that movie!
Now, it's giveaway time! One present I forgot to mention yesterday was my new Crock Pot! I just bought my other one and I think I can count on one hand the number of times I've used it so it's practically brand new. Anyway, I was trying to think of what in the world I was going to do with it and I've decided I would love to give it away to one of you!
Is it weird to give away a 4 times used crock pot? Perhaps, but I know when I didn't have one I would have taken a free one any day! So, there are two ways to enter:
1. Comment below and let me know what recipes from this blog you have tried, or would like to try.
2. Share my facebook page with your friends (just click the share link in the lower left hand corner) and comment here in a separate comment and let me know you shared! If you do both, you'll get two entries!
I will choose (at random) a winner on Saturday morning, so you have until Friday at midnight to enter!