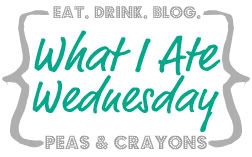 It's already Wednesday! Unbelievable how fast this week is going, I'm so happy! It's time for What I ate Wednesday! (even though it's actually what I ate Tuesday... shh!)
Blueberry overnight oats, and they're blue! I heated about 5 blueberries so they turned into liquid and mixed them in with egg whites, cinnamon, almond milk, and Truvia.
Blueberry banana protein shake for post workout
Cottage cheese and 2
blueberry muffins
for snack... I devoured the first one before I remembered to take a picture... oops. And yes, I now have 3 to-do lists at work. Joy.
Huge salad with shredded salsa chicken, tomato, red onion, and avocado for lunch.
Clean pizza
slice for a snack. This was pre lots and lots of red pepper flakes on top!
Mock sweet and sour chicken with brown rice and broccoli for dinner... recipe to come of course!
Casein puddin' right before bed... no picture, you know what it looks like :)