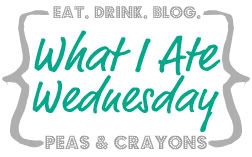 So, yesterday got off to a bit of a rough start.
When I make overnight oats, I make mine with 1/3 or 1/2 cup of oats and my gluten free, lactose free protein powder, while I make B about 1 cup with his protein powder (not lactose or gluten free). Well, somebody didn't notice his (my) oats tasted differently before devouring the whole bowl. I pulled this out of the fridge, took one bite, and freaked.
Okay, I didn't freak but I was so sad because I was really looking forward to these and I couldn't eat them without starting my day off with a horrible stomach ache. So, I opted for some warm oats with blueberries instead.
THEN, just as I'm finishing the bowl of oats I didn't really want to be eating, the electricity suddenly turned off. It actually wasn't very sudden, the lights started flickering for about a minute and then bam, they were gone. We called our provider and they said it would be out until 7:30am. So we lit all the candles we had an in the house to get ready for the gym and figured 7:30 would be perfect because that's when we get home from the gym.
No such luck. Lights were still out which meant a boring old protein shake with 1/2 a banana instead of a yummy blended one. This also meant showering by candle light, picking out clothes and doing hair (without straightener) by candle light, and doing my makeup in the car. Horrible. Can you say spoiled? Okay I'll shut up now.
Pumpkin protein bars were my morning snack. Don't mind my extensive to-do list in the background.
Soup was just perfect since it was rainy and chilly all day... Paired with a
cheddar biscuit
of course (B called me today for the sole purpose of telling me how much he liked the biscuits... I love when this happens!). I was on a conference call while I was eating and for future reference soup and conference calls do not mix well.
Nothing new here- almonds and cottage cheese for afternoon snack.
Tilapia with broccoli for dinner using the
spicy marinade
. I haven't had broccoli in a couple months because it tends to really bloat/hurt my stomach, but I took a digestive enzyme right before and I didn't have any trouble.
Casein pudding before bed while watching the Biggest Loser (no picture). Am I the only one that gets really sad when shows end for the season? Ugh. So sad.