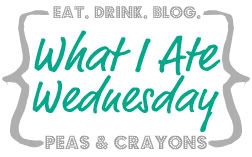 What I ate Wednesday, even though it feels like it's Friday (hallelujah). This four day weekend is going to be glorious I can feel it in my bones! I really hope all of you have four day weekends too, but I know not everyone does... as I have been reminded repeatedly by my poor boyfriend that has to work on Friday. It actually is kind of dumb, who wants to get out of bed and go to work after a Holiday? Not this girl.
The day started with some overnight pumpkin oats with a few blueberries on top, just because. The big polka dot bowl is B's and the baby one is mine.
Breaking news: I got a blender! Yes! I could not be more excited for all kinds of delicious shake recipes. This one was a pumpkin pie post workout shake... recipe to come!
Almonds and cottage cheese for my mid morning snack.
Tuna sandwich for lunch. I haven't had tuna in a really long time and after I came across it in my pantry I couldn't stop thinking about it so I toasted two pieces of Ezekiel bread and added lettuce and tomato. For the tuna I mixed 4oz with about 1 T of greek yogurt, a squirt of mustard, onion, and pepper. It was awesome, much better [and healthier x 100 but I think that goes without saying] than Subway since their Tuna sandwiches have 24g of fat in them. Yikes.
Dijon chicken with steamed veggies in the afternoon.
No, you are not seeing double. I ate the same thing twice in once day. So shoot me. I just love this marinade so much it's quick and easy and therefore worthy of having twice in one day!
Casein pudding was eaten while watching Whitney which by the way is one of the funniest shows ever. If you haven't watched an episode yet I highly suggest you do, and be prepared to laugh your way to a 6-pack. {Wouldn't it be great if you could really do that!?}