I've been meaning to participate in What I Ate Wednesday for a while now, but unless I write things down I forget. So yesterday I remembered it was almost Wednesday and I made a note in my planner and what do you know, I remembered!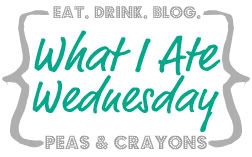 If you haven't checked out Peas and Crayons yet, you definitely should! I love seeing everyone else's WIAW posts, even if they aren't all clean.
Breakfast was an egg white scramble with mushroom (new obsession) and onion with a squeeze of reduced sugar ketchup and 2 slices of toasted Ezekiel bread with cinnamon and Truvia on top.
After the gym I had a protein shake and 1/2 a banana with freckles. I love it when the bananas have freckles.
A couple hours in to work I had some overnight oats- Tupperware and plastic spoon style. Can you say classy?
I shared my deliciously wonderful taco lunch with you yesterday.
Afternoon snack was cottage cheese with cinnamon and almonds (not pictured). I realized lately I put cinnamon in at least 4 meals of the day. I may or may not need to go to cinnaholics anonymous sometime in the near future.
French green beans and southwest dijon chicken was my simple but lovely dinner. Then of course I had my casein pudding right before bed, but you already know what that looks like... okay fine, I forgot to take a picture. Now, if this Wednesday can just fly by (even though it won't since I go straight from work to class) so it can be tomorrow already that would be great. Want to know why?

It's my day of birth!

Even though I'll just be working and it will be a normal day it's still so much fun to get all the Happy Birthday messages via text, Facebook, email, smoke singals etc. :)